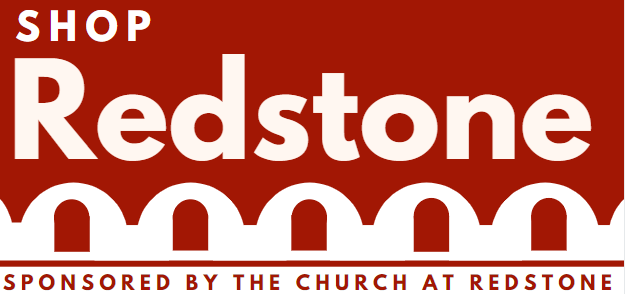 The Church at Redstone is pleased to announce the launch of our Shop Redstone Initiative. During the COVID-19 pandemic, it has been on our hearts to support our local businesses and to encourage people to shop local. We understand how difficult this season of closures has been for our local economy. We want to help.  So thanks to some generous donors, here's what we're doing:
We will begin selling Shop Redstone certificates that can be used at any participating merchant in the Redstone area – from the Redstone Inn to Propaganda Pie to Avalanche Ranch. We have 19 great businesses on board so far! And you're going to get a great deal. For every $20 you purchase in Shop Redstone certificates, you'll get an additional $10 certificate for free. That means you can shop locally in and around Redstone for a 33 percent discount. We think that's a good deal!  You can use these certificates just like cash – paying for all, or part, of your purchase.
If you'd like to purchase some Shop Redstone certificates, please email Chris at

[email protected]

. 
The certificates can be used just like cash at any business that is participating in the Shop Redstone Initiative. But you'll have to come soon because once our Shop Redstone certificates are gone – they're gone!  (We sold 53% of our certificates in the first five hours of sales!!!)  
We are issuing Shop Redstone certificates in $10 increments. To make things easy and to spread the certificates around, we're asking you to buy a minimum of $20 in Shop Redstone certificates. Again, you'll receive a $10 bonus for every $20 in Shop Redstone certificates you buy. (So if you buy $200 in Shop Redstone certificates, you'll get $100 in certificates for free.)
A list of participating businesses is above. (If you are a business owner in the Redstone area and haven't heard from us, please reach out to 
[email protected]
. We want to get you involved and on the list.)
Certificates can be purchased using cash, checks, or credit cards (with a small processing fee).  One more thing: All Shop Redstone certificates must be used by Labor Day weekend – no later than Sept. 7. Our hope is to stimulate sales among our Redstone businesses sooner rather than later.
If you have any questions, please contact Pastor Chris Moon at 
[email protected]
 or keep up with the Church at Redstone 
Facebook page
, where we will keep you informed about future sale dates and new additions to our list of participating businesses.